Brick kilns exhaust farmlands of topsoil in Panchagarh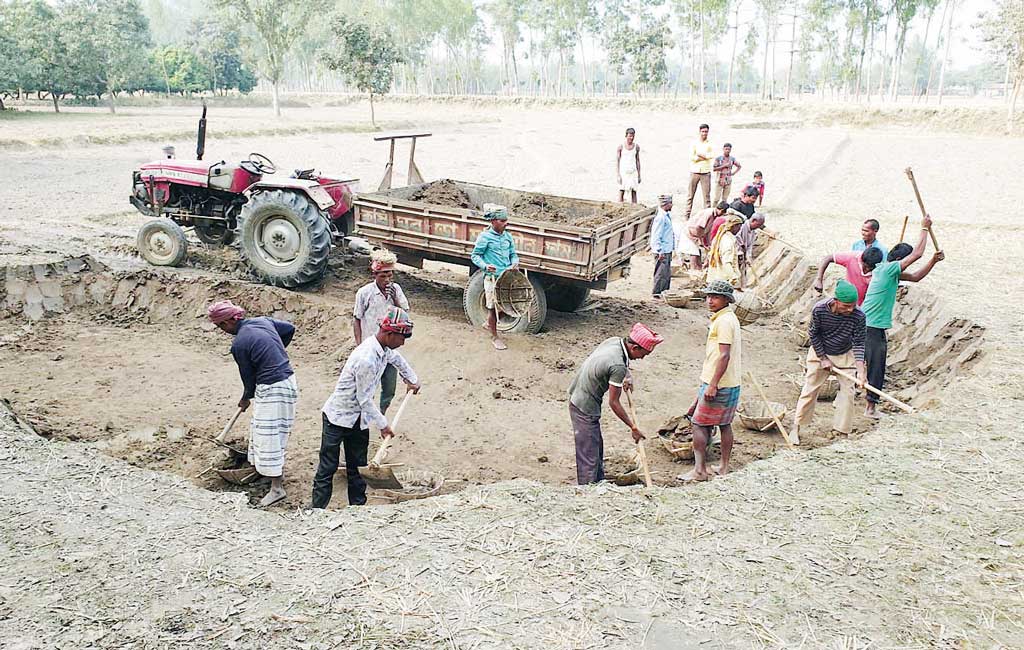 Near about 500,000 to 1,000,000cft (Cubic Feet) topsoils are being used to make 3 to 4 million bricks every year

Large-scale use of topsoil from vast areas of farmlands for brick manufacturing in Panchagarh has been inflicting catastrophic damage on agriculture as well the environment.
Vast agricultural lands have been losing fertility as well as crop yield capacity for over decades due to the loss of topsoil—which is the outermost layer of soil with the highest concentration of organic matter.
Farmers in the district have long been victims of exploitation and have been manipulated by local brokers to sell their fertile-most soil to brick kiln owners.
In this way, around 52 brick kilns have been set up around the farmlands of Debiganj, Boda, and Atwari upazila, which are using fertile topsoil of thousand hectares of arable land to make millions of bricks every year.
Collection of topsoil from farmlands surrounding brick kilns begins after the Aman harvest and continues for the next one and a half months, locals say.
As most nutrients and organic properties along with beneficial microorganisms reside on the top part of the soil when removed, the soil becomes infertile; the bare chemical-infested soil residue washes into the adjacent water bodies, resulting in scores of environmental and health hazards.
On a field visit, this correspondent saw numerous trucks filled with the soil, and the farmlands dug 10ft to 15ft under.
Near about 500,000 to 1,000,000cft (Cubic Feet) topsoils are being used to make 3 to 4 million bricks every year.
Even though removing topsoil is a punishable offence, locals say neither the brick kiln owners nor the authorities abide by the law. They allege local political influencers are behind these atrocities.
Dhananjay Rai, a resident of Debiganj's Nayanpara village, said he sold per bigha of topsoil from his land at Tk26,000.
.
Posted by
admin
on Mar 18 2020. Filed under
Forest & Land
,
Organic agriculture
. You can follow any responses to this entry through the
RSS 2.0
. You can leave a response or trackback to this entry