Catastrophic Decline in Wildlife in the Sahara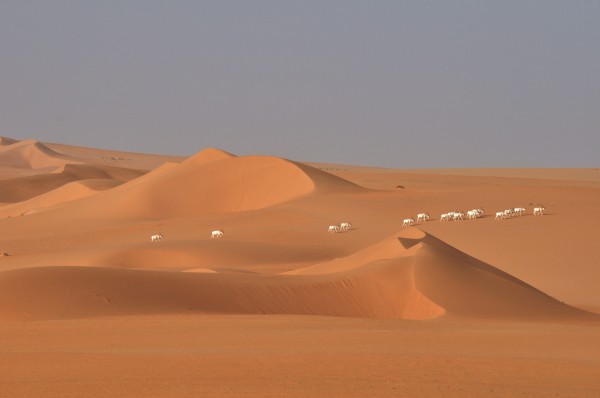 There are few landscapes more evocative and beautiful than the sweeping sands and majestic mountains of the Sahara desert. This land used to be widely populated by large animals uniquely adapted to the harsh and unpredictable desert environment. Their ability to roam freely across a vast landscape following sparse rainfall and forage is key to their survival in an unforgiving habitat.
However, over recent times, there has been a catastrophic decline in wildlife in the Sahara. In a new article  that documents the status of large animal species in the region, we show that, out of 14 species historically found in the Sahara, most have been eradicated from 90% or more of their historical range.
Several species have disappeared entirely. The last known photograph of the iconic Scimitar horned oryx was taken in 1982 by John Newby (photo below), and the species was declared extinct in the wild in 1999 (it only survives now in captivity).
Less information survives on the precise time of disappearance of another three species that have been eradicated from the region: the lion; bubal hartebeest;  and the African wild dog. Critically endangered addax, dama gazelle and Saharan cheetah cling on in tiny fragmented populations, while endangered populations of slender-horned and Cuvier's gazelles are not faring much better.
You might think that such a catastrophic collapse of an entire megafauna would be making headlines, and that something would be done to stop it, but it has gone ahead largely unnoticed and unreported.
Deserts have become almost invisible on the conservation agenda. World attention has, understandably, focused on the rich biodiversity found in hotspots, which are often in tropical forests. However, deserts actually harbour surprisingly high levels of biodiversity, able to thrive in a harsh and highly variable environment.  This biodiversity hides a wealth of adaptations that enable species to tolerate water stress and extreme temperatures; information that may prove critical as we are forced to adapt to a changing climate.
Unsustainable hunting and past and ongoing insecurity have undoubtedly played a key role in the loss of Saharan wildlife, but it is difficult to avoid the conclusion that more attention might have helped prevent some of the declines. Rare antelope and Saharan cheetah can still be found in remote and inaccessible corners of the Sahara, in vast landscapes possessing a silent peace and unforgettable beauty.

There are also some good news stories—Niger has just established a massive 97,000km2reserve—Termit and Tin Toumma National Nature Reserve, which harbours most of the world's 200 or so remaining wild addax and one of a handful of surviving populations of dama gazelle and Saharan cheetah. While there is hope that we may yet see scimitar horned oryx back in the wild in the Ouadi Rimé-Ouadi Achim Game Reserve, with the support of the Chadian government.
2014 is the halfway point in the United Nations Decade for Deserts and the Fight against Desertification and the fourth year of the United Nations Decade for Biodiversity. It is an opportune time for the world to focus on securing the sustainable management of desert ecosystems, to the benefit of people and wildlife. The world will be a poorer place if the unique biodiversity of the Sahara and other deserts is allowed to disappear.
By Dr. Sarah Durant, Zoological Society of London, Wildlife Conservation Society, and National Geographic's Big Cats Initiative
Posted by
admin
on Dec 5 2013. Filed under
News Worldwide
. You can follow any responses to this entry through the
RSS 2.0
. You can leave a response or trackback to this entry