Climate change and Bangladesh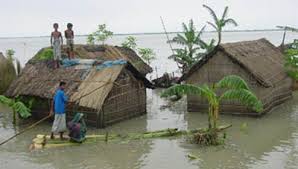 The last 12 months have seen some important events and actions regarding climate change both globally as well as in Bangladesh. The article will review some of the key events and activities over the last year and point to important upcoming events.
Science of climate change
The most significant development on the science of climate change is the rolling out of the Fifth Assessment Report (AR5) of the Intergovernmental Panel on Climate Change (IPCC). The report of Working Group — 1 on the Science of emissions is already out and the Working Group — 2 report on Impacts, Vulnerability and Adaptation will come out in March 2014 with the final Working Group Report in Responses coming out later in 2014. In addition to these IPCC reports there will also be the third international conference on Adaptation Science in Fortaleza, Brazil in May 2014.
Bangladeshi scientists have been playing a key role in the international science of adaptation and now loss and damage in particular. However, although a great deal of research gets done in Bangladesh, very little of it is of international quality. Hence, there is a need to improve the quality of the research in Bangladesh if it wishes to be taken credibly by the global scientific community.
Global climate change Policy
The eighteenth conference of parties (COP18) of the United Nations Framework Convention on Climate Change (UNFCCC) held in Doha, Qatar in December 2012 and COP19 held in November 2013 in Warsaw, Poland, saw a new global policy issue arise (in addition to the two existing ones on mitigation and adaptation) on Loss and Damage.
After tough negotiations on this topic in Doha and then even tougher one in Warsaw we have emerged with a new Warsaw International Mechanism on Loss and Damage which was our key demand from the Least Developed Countries (LDC) Group.
Bangladeshi scientists, experts, negotiators and civil society played a critical role in achieving this success in Warsaw.
Bangladesh has an opportunity to continue to lead other LDCs on this issue if we are able to seize the opportunity. It will require a concerted and collaborative effort from the government as well as research community and civil society.
Community Based Adaptation
Bangladesh is already widely recognized as a leader in the rapidly emerging field of Community Based Adaptation (CBA) where we have hosted a number of the annual international CBA conferences. The seventh International CBA conference (CBA7) was held in Bangladesh in April 2013 with nearly 300 international participants from over sixty countries. It was inaugurated by Prime Minister Sheikh Hasina and the closing speech was given by Mary Robinson the former president of Ireland.
CBA 8 will be held in April 2014 in Katmandu, Nepal where the theme will be "Reaching Global Adaptation Funding to Local Communities". It is expected that there will be attendance from the major adaptation funders including the Chairs of the Adaptation Fund (AF) and Green Climate Fund (GCF).
Bangladesh has an opportunity to take some more actions to support local level adaptation at home and share them at the second National Conference on CBA to be held in Dhaka in March 2014 and then to promote them at the international conference in Nepal in April.
Bangladesh Climate Change Strategy And Action Plan (BCCSAP)
At the national and local level the main activities have been the implementation of the  BCCSA through the two climate change funds, namely the Bangladesh Climate Change Resilience Fund (BCCRF) and Bangladesh Climate Change Trust Fund (BCCTF). The former has several hundred million US Dollars from donor countries such as the UK, Sweden, Australia, Denmark and others, while the latter has several hundred million from Bangladesh's own resources.
Both funds have been supporting activities by government agencies and civil society as part of the BCCSAP. The experience of both these funds needs to be assessed and some longer-term ideas mooted on whether they should continue, be merged or replaced?
Looking forward
Looking forward at the national level, the world is now looking at Bangladesh as a pioneer in tackling climate change and we can indeed become an example for other countries. The positive aspect is that there is a very high degree of awareness of the climate change problem amongst all stakeholders and there is also very strong bi-partisan political support from all the political parties. Hence the focus on climate change should be the same regardless of which political party is in power. However, on the negative side the difficult political circumstances make progress in tackling climate change difficult, as with everything else. The other negative issue to keep in mind is that it does not take much time to lose one's reputation if something does go wrong. Hence, it is important that we have some good monitoring and evaluation systems put in place to keep track of the country's climate change activities.
At the international level in addition to those important events mentioned above, the main future event is the twenty-first conference of parties (COP21) to be held in Paris, France in December 2015, where the new treaty is supposed to be formalised. There will be two milestone events before then, namely, COP20 in Lima, Peru in December 2014 and the Climate Summit called by the United Nations Secretary General Mr. Ban Ki-moon in September 2014 on the margins of the UN General Assembly.
Conclusion
Over the last few years Bangladesh has been slowly been able to turn around its reputation in the context of climate change from being one of the most vulnerable countries to becoming one of the most adaptive countries. It should continue to carry out activities, learn lesson and share them with the rest of the world.
Collected: www.thedailystar.net
Posted by
admin
on Feb 26 2014. Filed under
Climate change
. You can follow any responses to this entry through the
RSS 2.0
. You can leave a response or trackback to this entry