Climate change is not merely an environmental problem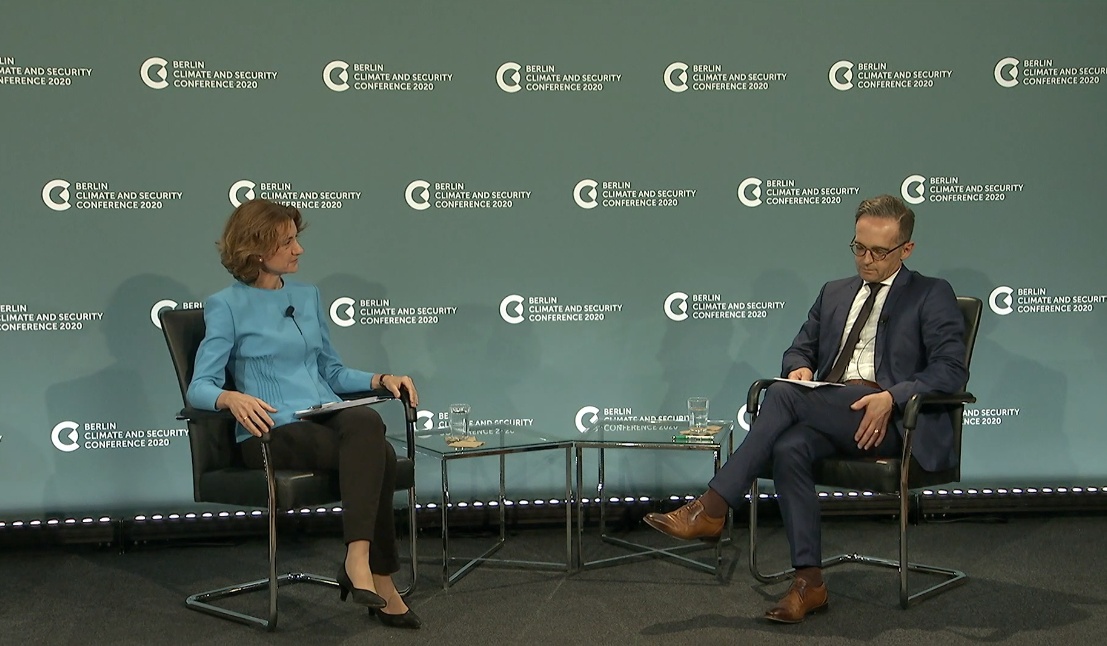 Dhaka, 8 August, 2020: There is an emerging global consensus that climate change will stress the economic, social, and political systems that underpin each nation state. "Climate Change is transforming the way we think about security. The present situation is a wake up call that the climate crisis is no longer just an environmental and development issue, but it represents a core risk to global peace and security, and a key issue of foreign policy. It has become a global issue having a high-ranking concern on the list of priorities for Germany", said the German Foreign Minister Heiko Maas in the Berlin Climate and Security Conference 2020.
A first part of the 2020 Berlin Climate and Security Conference held in June 23-24, hosted by The German Federal Foreign Office, in partnership with adelphi and the Potsdam Institute for Climate Impact Research (PIK), brought together leading figures from several sectors through two scientific workshops and a high-level political segment. It discussed the growing risks that climate change presents for peace and security, and the need for quick and decisive action to prevent and minimize climate-related conflict.
Prof Ottman Edenhofer, Director, PIK reminded us to look beyond known climate related risks. Drawing on the conclusions from scientific evidence, he emphasized that we are likely underestimating the implications of climate change for security. In this age of Anthropocene, the climate-related security risks will no longer occur in isolation. They will continue to come as tele connected shocks linked to a scarcity of global public goods and overuse of global commons.
These risks emerge in interaction with other factors and has consequences that reach the very heart of the climate security agenda: competition over local resource, livelihood insecurity, human mobility, engagement in illegal coping mechanism, extreme weather events, poorly designed (climate and security) policies, weak or failing governance, food shortages, price volatility in globally traded food staples leading to intensified competition for food, water and energy in regions where resources are already stretched to the limit. Raychelle Awuor Omamo, Secretary for Foreign Affairs, Kenya, addressed the nexus between climate change and security, very evident in Africa, where a merger of threat prevails with climate change operating as a threat multiplier. She cautioned the member states to focus more clearly on the benefits of early action. United Nations High Commissioner for Refugees Filippo Grandi welcomed the focus on forced displacement as one of the consequences of climate change, which shows the urgency of the climate emergency, and its impact on peace and stability.
Prof Ottman Edenhofer believes this is an opportunity to rebuild the infrastructure integrating the various risk rescue packages into a green recovery plan which would have the potential of generating human prosperity within the planetary boundary strengthening the control on global commons.
It is important to tele-connect all-risk aspects and figure out feedback loops among these issues. Minister Maas added that maintaining peace does not mean managing armed conflict only. In fact, previous British Defence and Security reviews have already noted the importance of looking beyond traditional definitions of security to consider things like "social inequality and exclusion, demographic changes, rapid and unplanned urbanisation, climate change, and global economic and other shocks. Ine Eriksen Søreide, Norwegian Minister for Foreign Affairs, expressed her surprise that climate security is not a frequent topic in UN Security Council debates, compared to how present the conversation on climate threat multipliers was with military officials in her previous role at the Norwegian Ministry of Defence.
UN Peacekeeping is an important part of the international community's response to the complex equation of climate change and peace and security. Eight of the ten countries hosting the biggest multilateral peace operations are located in areas highly exposed to climate change (SIPRI).
Whether it is changes in water tables, desertification or movement of populations, the blue helmets are increasingly on the frontlines of these climate-related crises. Bangladesh is the second largest contributor of uniformed personnel to UN Peacekeeping. It currently contributes more than 6,400 military and police personnel to the UN peacekeeping operations in nine peacekeeping missions around the world, further underlining the importance of mainstreaming climate change knowledge in the military sector of our country for ensuring the success of these peacekeeping missions.
Kenyan Secretary for Foreign Affairs Raychelle Awuor Omamo called for a strengthening of the UN's peacekeeping mechanisms to enable peacekeepers to deal with climate change issues in their areas of operations. "The UN needs to reflect on whether its peacekeeping efforts are fit for purpose to address climate change threats", she added. Therefore, the peacekeepers and the military establishments need to develop a better understanding about biodiversity and should recognize mainstream climate change as a "threat multiplier" in their operational processes.
For improved reporting and risk analysis, The Global Risk and Foresight Assessment has been launched in this conference with the aim to strengthen partnership between science and politics that will set up a roadmap on how to better assess climate change security risks and create a pathway for evidence-based decision making. The Security Council charged with the maintenance of international peace and security have key roles to play. Primarily, there should be a strong belief of the nexus between Climate Change and Peace and security which should be mainstreamed in the decision-making process and agenda of the United Nations Security Council (UNSC). UNSC should also be looking at ways where there can be better collaboration between the regional arrangements like AU-peace and security council and UN peace and security council as most conflicts take place in Africa.
In support of the Berlin Climate and Security Conference 2020, several high-level representatives of governments and international organisations have contributed statements. Bangladesh has sought a "bold decision" from the UNSC to ensure security and peace across nations addressing climate challenges through partnership and collaboration. In terms of climate change, Bangladesh is one of the most vulnerable countries in the world. "If millions are uprooted due to sea level rise, it will be a security risk not only for
Bangladesh but also for the region," warned Foreign Minister Dr AK Abdul Momen in his video statement issued for the Berlin Climate and Security Conference 2020. As a follow-up of the conference, From September 7 to October 2, the second part of the BCSC 2020 will reflect on how more comprehensive risk assessments could support forward- looking and preventative foreign and security policy. In this Anthropocene, it is vital for those in power to understand the interplay between drivers of insecurity and act accordingly. But no state is currently equipped to do this. Effective multi stakeholder's collaboration can make a unique contribution in building a shared understanding of what an unstable climate will mean for our individual and collective security.
Moving forward, as we begin to build a low-carbon global economy with fullest possible understanding of all the implications of climate change, including security imperatives, the decisions we make and the actions we take, in whatever forum, will be better, stronger and more effective. Equally, failure to address these issues in the relevant forum will further exacerbate the security implications of climate change.
.
Posted by
admin
on Aug 8 2020. Filed under
Climate change
,
Environmental livelihood
,
News at Now
. You can follow any responses to this entry through the
RSS 2.0
. You can leave a response or trackback to this entry