Embankment project a curse in disguise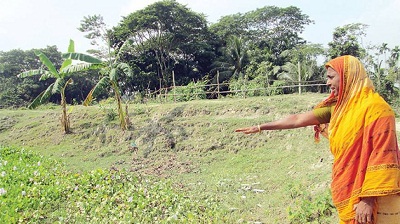 An embankment project designed to solve the negative effects of climate change has now become a curse for the residents of Nalua union in Barisal.
Large chunks of arable land were forcefully claimed by the metal claws of excavators, locals told the Dhaka Tribune, adding that the unscrupulous contractor had acted on whim and bribery to leave out a wide area that was supposed to be protected by the 24km polder project surrounding Nalua.
Not only did the contractor leave behind catastrophic consequences for many, but also constructed a poorly-built embankment that has already begun to fall apart, locals said.
Bangladesh Climate Change Trust Fund financed around Tk10 crore for the embankment project, implemented by Barisal's Water Development Board office between July 2013 and June 2014. It had aimed at providing food security, health and social protection for the locals, and creating disaster management facilities and infrastructure in the area.
Instead, the project robbed around 200 people of their income-generating arable land.
Momtaj Begum, 55, said she used to have about 10 decimal of arable land as her only source of livelihood. But that land was excavated under the project without any sort of compensation.
"I requested them [project workers] not to dig out my only land. I even cried sitting on my land, but they did not listen to me," Momtaj sobbed as she spoke to the Dhaka Tribune.
She pointed to her once-arable land: now a pond full of water hyacinths.
The widow's fortune took another turn for the worse recently when her house was claimed by Payra River. "Nowadays, I sometimes have to beg on the road to live," she said.
Momtaj is not the only victim of the project. Her story was echoed by many others who shared their woes with the Dhaka Tribune.
Another widow named Jahanara Begum, who lives in the northern part of Nalua after the river destroyed her home, also had her 10 decimal of land forcefully excavated by the contractor.
"I begged to them… I grabbed their arms and legs seeking mercy, but they did not listen to me," a sobbing Jahanara said.
Far-reaching damages
Under Barisal's Bakerganj upazila, Nalua is a remote union surrounded by estuaries of river Payra. The union has around 20,000 residents and 500 acres of arable land.
Before the project began in the area, people were already suffering the harsh consequences of climate change. Life was hard for many who had been left homeless by the eroding banks of Payra River.
But the people who lived further inland had crucial lifelines in the form of four canals that provided water to their arable land.
When the embankment was constructed, the locals found out that it had cut off water supply from the canals. Options for irrigation also became slimmer as project officials failed to build any sluice gate or culvert on the embankment.
Now locals have to spend extra money to irrigate their land, some of which have already lost their arability.
Furthermore, the embankment that was supposed to shield local families was finally constructed in such a way that around 200 houses were not covered by its protection.
Local villagers said nobody had asked them for opinions or informed them about the project beforehand; they only found out about the embankment when workers first arrived.
Although there were employment opportunities for local workers under the project, the contractor chose to go with his own preferred outside workers, villagers told the Dhaka Tribune.
Sub-standard construction work soon started showing its consequences. During a recent visit, the Dhaka Tribune found that within a year and a half after construction was complete, around 50 feet of the embankment had already eroded into the river.
Locals also claimed that the contractor had pocketed money by building a narrower and weaker embankment than planned, reducing the proposed height and width of the structure.
Seeking anonymity, several locals told the Dhaka Tribune that the contractor had cut down many trees during the construction work and sold each one for Tk28,000.
The contractor even took Tk1 lakh bribes to alter the design of embankment and spare houses of some influential people, the locals said, adding that the changed plans instead destroyed  houses of the local poor.
They said they could never find the principal contractor at the site as he appointed sub-contractors for the project.
Locals claimed their sufferings have now increased because the project had not been properly implemented. But the fear of repercussions from local influential politicians was stopping them from lodging any official complaint.
What authorities say
Although villagers said they had expressed their concerns to the local Union Parishad Chairman Jiaur Rahman, the UP official said he had no idea about such allegations.
"But no compensation was given to those who were badly affected by the embankment," Jiaur told the Dhaka Tribune.
"Although the embankment was supposed to benefit the people, it did not," he admitted.
But all allegations of damages were denied by Jahir Uddin Ahmed, executive engineer at Barisal's Water Development Board who had been in charge of the embankment project.
He instead claimed that the embankment was now providing protection from tidal surge to an area which previously used to be submerged.
"We do not have any regulation or guideline to compensate people. In addition, there were no need to compensate because we did not use any land of the people", he added.
Source: Dhaka Tribune
Posted by
admin
on Jan 4 2016. Filed under
Bangladesh Exclusive
. You can follow any responses to this entry through the
RSS 2.0
. You can leave a response or trackback to this entry