Fish sanctuaries to improve environmental livelihoods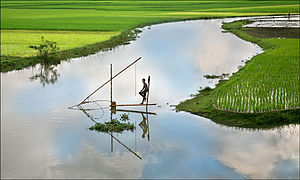 Bangladesh has some of the world richest fisheries and the rivers and flood plains of Bangladesh support over 260 fish species. Globally, over 10% of the worlds animal species and 35% of the world vertebrate species such as fish, amphibians, reptiles, birds, and mammals live in just the 1% of the earth's surface area covered by freshwater.
There are over 120,000 government owned water estates, or jalmohals, which divide up the floodplains of Bangladesh for fishers.  Fish is a major source of protein in Bangladesh and provides an essential source of nutrition such as vitamin A and calcium.
A recent study found several different types of people who depend on fishing for livelihood in Bangladesh:
Inland fishers who descended from Hindu fishing castes
The poor and landless who depend on fishing seasonally as a source of food
Those who invest in fisheries, including farmers, money lenders and professional fishers
The majority of fishers are men, although some women and children participate in subsistence fishing.
However fish stocks are threatened with 54 species of fish in Bangladesh listed as endangered and many key species have declining
numbers.  Population growth, environmental degradation and climate change are exacerbating these problems.
As fish stocks decline, fisher are forced to take a greater proportion of the available stock, further reducing their ability to recover, additionally fisher catch smaller fish, often before they have a chance to breed.  The Protection and Conservation of Fish Act sets out strong principals for the protection of fish stocks, including minimum catch sizes, but enforcement has been insufficient.
Community-based fisheries management (CBFM) aims to involve the community in managing fisheries sustainably for environmental livelihood of all stakeholders.  By establishing sanctuary areas where fishing does not occur the breeding and maturing of fish can be protected to ensure a sustainable fish population long term.
The CBFM project has:
Established 164 fish sanctuaries in 81 water bodies
Included 23,000 participants
Increased fish production by up to 29%
Increased fish harvesting by US$0.9million or 1,230 tonnes per year
Increase fishers incomes which has flow on effects to improve housing and sanitation
Increased fish consumption & food security
Posted by
admin
on Jun 5 2013. Filed under
Environmental livelihood
. You can follow any responses to this entry through the
RSS 2.0
. You can leave a response or trackback to this entry