Flood damages Tk 13.23b crops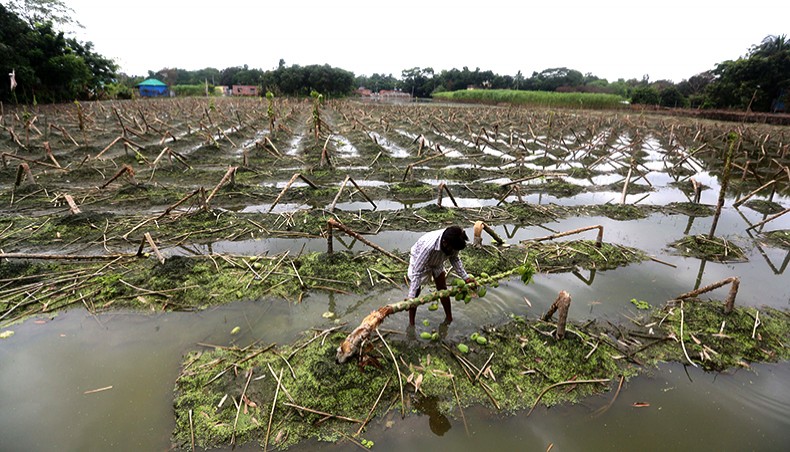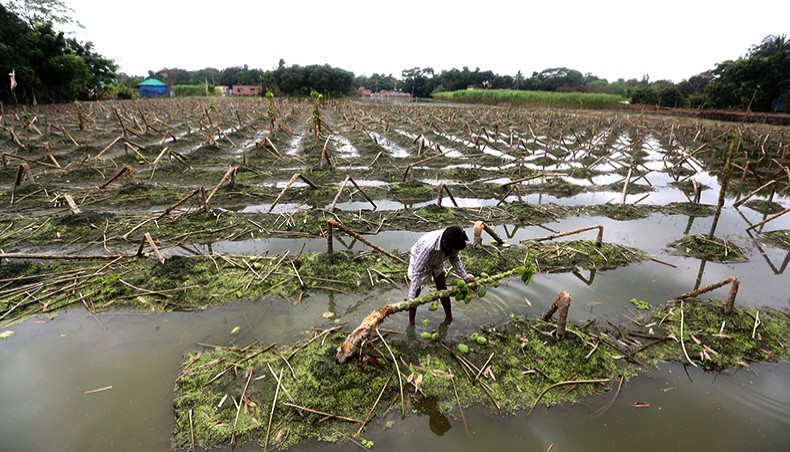 Dhaka, 21 August, 2020: A farmer inspects a papaya fruit tree in a farmland totally damaged by the recent flood at Binadangi of Singair upazila of Manikganj district on Wednesday. — Sony Ramany
The ongoing flood has damaged crops worth about Tk 13.23 billion of over 1.2 million farmers in 37 districts between June 25 and August 12, agriculture minister Muhammad Abdur Razzaque said on Wednesday.
As the agriculture ministry plans actions to help farmers recover the loss, four central rivers, including the Jamuna and the Padma, continued flowing above their flood levels in four central districts until Wednesday, 54 days after the flood had begun.
A Flood Forecasting and Warning Centre bulleting said that the flooding of Manikganj, Rajbari and Faridpur may remain unchanged through Thursday while heavy rains might cause rivers in south-eastern and south-central region to rapidly swell during the same time.
'The prolonged flood have caused extensive damages to crops including aman, aush, jute and many vegetables,' said Razzaque at an online media briefing.
He said that the flood inundated 2,57,148 hectares of cropland and damaged over two dozen crops on 1,58,814 hectares of the inundated areas.
Cultivators of some crops suffered more loss than others with the flood destroying aush worth Tk 334 crore, aman worth Tk 380 crore, vegetable Tk 235 crore and jute Tk 211 crore so far.
The agriculture ministry estimated that aush cultivated on 32,213 hectares, aman 70,820 hectares and aman seedbed on 7,918 hectares were destroyed in the flooding.
The minister said that the government had taken agro rehabilitation programme worth Tk 17.54 crore to help 2,39,631 farmers grow vegetables with free seeds.
The agriculture ministry also announced that they were helping farmers to grow aman plants, while black gram seeds and pesticides and fertilisers were distributed among farmers.
'We hope that the measures we have taken will prevent the loss from impacting the country's food security,' said Abdur Razzaque.
'If there is no further flood we hope to fully recover the losses,' he said.
Still as a precaution the government permitted rice import to avoid food crisis in case of further flooding, said the minister replying to journalists' questions.
'It is not finalised yet but the rice import might take place through both government and private imports,' said the minister.
Forecasters have already warned about further flooding at the end of the month or sometime next month because of heavy rains in the upstream regions.
They said that although rivers were flowing below their danger levels for last two weeks, they still flowed close to their danger marks and vast floodplains were under water affecting cultivation.
After destroying vast croplands in northern and central districts since June, the flood is now moving to south-eastern and south-central districts because of heavy rains inside Bangladesh and slow draining of rivers.
Vast areas, including crop fields, in Barishal went under water on Sunday, reported new age correspondent in Barishal.
Bangladesh Meteorological Department recorded the country's highest rainfall of 149mm in the 24 hours until 9:00am on Wednesday with prediction of rains across Khulna, Barishal and Chattogram divisions in the next 24 hours.
Dhaka, Mymensingh and Sylhet division are also likely to get rains at many places during the same time, said the BMD.
The BMD said that a low formed with northwest bay along with strong monsoon made the sea very rough and asked all four maritime ports to keep hoisting signal no three until further notice.
The FFWC said that the Brahmaputra and Jamuna have becomes stable but the Ganges was swelling but might become stable by Thursday.
About 40 per cent of Bangladesh went under water during the peak of the flood in late July after when rivers started retreating.
Over 5.5 million people got affected by the flood while flood-related causes killed 226 people until August 18.
Vast areas still remain under water in central Bangladesh, including Dhaka, with the affected people struggling to get back to normal life amid the flood during a global pandemic.
Over 23,000 people are still at government shelters, mostly in central Bangladesh, with thousands of others on embankment and other places across the flood affected districts.
Thousands of homes were swept away by the flood and nearly 300 kilometres of river banks and embankment got damaged.
The Centre for Policy Dialogue said that the flood caused over $116 million loss in the agriculture sector
.
Posted by
admin
on Aug 21 2020. Filed under
Food security
,
News at Now
,
Water & Wetland
. You can follow any responses to this entry through the
RSS 2.0
. You can leave a response or trackback to this entry