Floods in India Drown Rare One-Horned Rhinos. As monsoon floods course through Assam, India, rescue response teams try to nurse surviving animals back to health.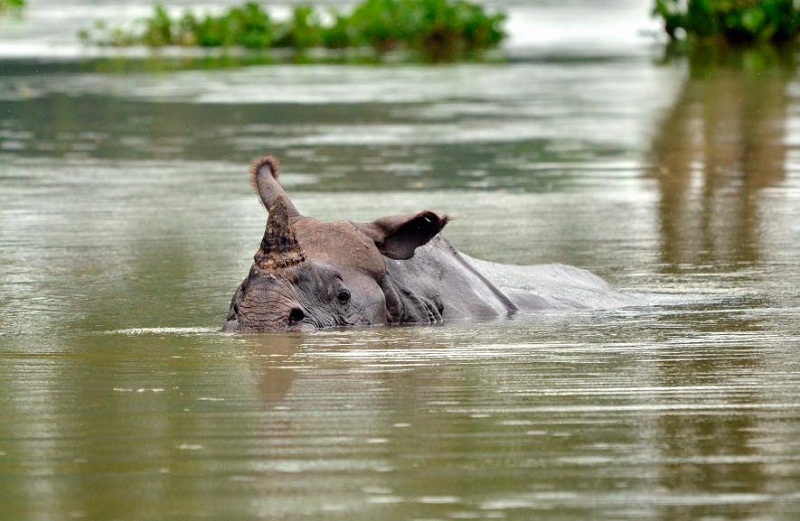 Raging floods that started on July 25 submerged up to 80 percent of India's Kaziranga National Park, in the northeastern state of Assam. The flooding subsided on July 31, but hundreds of animals have drowned, including more than a dozen rare Indian rhinoceroses. Across the country, the flooding has displaced millions of people and killed 152. As of Tuesday, the Brahmaputra River has started to recede. Satyendra Singh, the park's director, says 30 percent of the 166-square-mile (430-square-kilometer) park is still flooded. "Some 270 wild animals have died, this has been one of the worst seasons of flooding," Singh tells Sky News. "The devastation to the park's infrastructure, roads, and bridges has been very severe."
The Victims

In addition to being a refuge for two-thirds of the world's 3,000 Indian rhinos, hog deer, tigers, elephants, buffalo, and about 30 other mammal species also inhabit the UNESCO World Heritage site. Reports say 16 to 20 rhinos in the park have drowned, including eight calves, four of which were females. Rescue teams in boats pulled eight rhino calves out of the water with ropes, and the Centre for Wildlife Rehabilitation and Conservation(CWRC), run by the Wildlife Trust of India and the Assam Forest Department, rescued more than a hundred animals. Rathin Barman, deputy director of the Wildlife Trust, told the Wall Street Journal the calves are now being swaddled in blankets, and bottle-fed milk and vitamin supplements. "Some of them are in a critical condition because they were about to get drowned before we saved them. They are also suffering from severe trauma of the floods," Barman says. "We will release them only after two years," he tells NDTV. The Indian rhinoceros, or the greater one-horned rhino, is the country's most vulnerable species. The animal's population has grown from 600 in 1975 to 3,500 by mid-2015 in India and Nepal. Males can weigh almost three tons, so Indian rhinos are one of the largest rhino species. Their single black horns can be up to almost two feet (60 centimeters) long, and they primarily graze on grass. Experts counted 2,401 Indian rhinos living in the park before the flood hit. The rampant river also claimed the lives of 11 wild boar, nine swamp deer, six sambar, three buffalo, two hog badgers, one porcupine, and one python. But hog deer suffered the most. Kaziranga was originally home to about 20,000 hog deer, but more than 150 have drowned and 12 were mowed down by vehicles on National Highway 715 as they tried to escape the inundated park. Teams have rescued 92 hog deer, and 62 have been released.
Impacts on the Human Population
In addition to flushing out animals, the flood poured into forest guards' camps. Flooding has forced nearly two million people out of their homes near the park, reportedly killing at least 31 people in Assam. India's National Disaster Response Force has established 42 flood rescue response teams throughout the country to evacuate and relocate people. Suvasish Das, the park's district forest officer, says rhinos are straying from the waterlogged park in search of food. This makes them easy targets for poachers, who go after rhinos for their horns, which are used in traditional Chinese medicine or as status symbols. Steve Winter, a National Geographic photographer, visited Kaziranga National Park in 2008 on assignment. Winter says inside the park, there are strong anti-poaching regulations. "The animals are conserving themselves by staying in the park," Winter says.
Read More: http://news.nationalgeographic.com/2016/08/floods-india-drown-rare-one-horned-rhinos/
Posted by
admin
on Aug 3 2016. Filed under
News at Now
. You can follow any responses to this entry through the
RSS 2.0
. You can leave a response or trackback to this entry