GAIA team standup to corporate greed: Demonstrate alternatives to incineration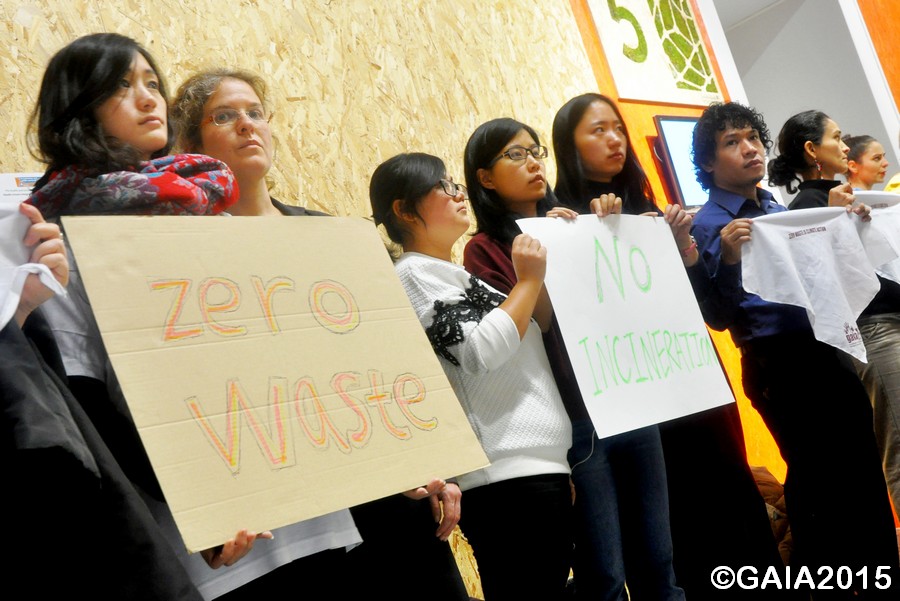 Paris, 9, December, 2015: Outside of the blue and the green zones at the COP is where the real action is happening. Real people from communities are practicing stewardship, protecting their communities and creating sustainable livelihoods on the frontlines of climate destruction. Hundreds of GAIA activities from around the world standup to corporate greed: demonstrate alternatives to incineration.
Matt Franklin from UK, a member of Zero Waste Europe said, "I feel most fortunate to find myself in this circle and learn how waste pickers in South Africa organize worker cooperatives to recover waste while building family-supporting jobs". He said, Recyclers in Bogota negotiate government policy to protect worker dignity and fair pay. Activists standup to corporate greed and demonstrate alternatives to incineration in Mexico and Newark.
These people aren't wasting time with false notions and solutions because it is impossible to extract, bury, burn or gasify our way to any kind of future. Instead, across Latin America and Asia people compost and practice eco-agriculture to restore depleted soil and grow food sustainably. Zero waste communities from the Philippines, Bangladesh, and India; to Italy to China are demonstrating strategies and sharing knowledge with one another. We know there are no jobs on a dead planet and we are not fooled by corporate or government green washing.
According to the GAIA news service, for four rich days our GAIA delegation dug deep and developed a shared road map for the future of our network. Some of they were heard at the official presentations at the COP21 space. Others busted through corporate bioplastic greenwashing with pointed questions and song. GAIA & Zero Waste France offered workshops showcasing positive models at Le Bourget and the Global Village of Alternatives. Then they reached outward to be in solidarity with sisters and brothers feeding their grassroots communities across the globe.
Zero waste activities showed up to support indigenous people protecting their land and youth fighting to protect black bodies in the US. They stand with workers seeking just alternatives and women on the front lines.
Posted by
admin
on Dec 9 2015. Filed under
News at Now
. You can follow any responses to this entry through the
RSS 2.0
. You can leave a response or trackback to this entry