Gov. Kate Brown Orders State Action On Climate Change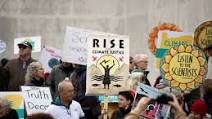 Oregon Republicans killed cap and trade this year. Now, they'll have to contend with cap and reduce. Closing a loop on a pledge she made last year, Gov. Kate Brown issued an executive order Tuesday that aims to sharply curb greenhouse gas emissions with a full-court press by government agencies. The 14-page order comes less than a week after a Republican walkout killed Senate Bill 1530, Democrats' signature proposal for a cap-and-trade system in Oregon. It contains ambitions that are at once equal to and much broader than that bill. "The executive branch has a responsibility to the electorate, and a scientific, economic, and moral imperative to reduce [greenhouse gas] emissions," the order says, "and to reduce the worst risks of climate change and ocean acidification for future generations." Like SB 1530, Brown's order updates the state's carbon reduction goals, setting targets of a 45% reduction below 1990 levels by 2035, and an 80% reduction by 2050. But its path to those goals extends well beyond the regulations in the legislative proposal.
Brown's order, for instance, directs agencies to alter building codes to prioritize energy efficiency, and to further ratchet down the carbon intensity of gasoline. It has provisions for updated energy efficiency standards for appliances and directives for reducing food waste.
;
Posted by
admin
on Mar 11 2020. Filed under
Climate change
,
News Worldwide
. You can follow any responses to this entry through the
RSS 2.0
. You can leave a response or trackback to this entry