High Levels of Toxic Chemicals Found In Children Toys In Bangladesh Market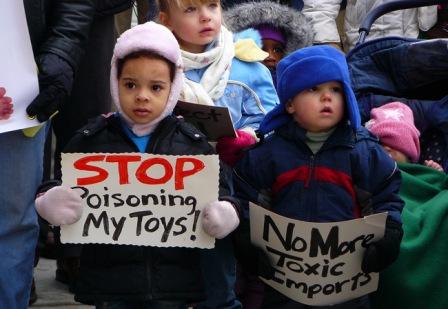 Dhaka, Bangladesh: Different types of children toys in Bangladesh market contain high concentration of toxic heavy metals; the associated chemicals can be the cause of brain damage, learning disabilities, hormone problems, and cancer of the young children. In a new study released by Environment and Social Development Organization–ESDO on December 6, 2013 this information was disclosed. The study also found that due to the lack of regulations and public awareness "Toxic Toys" are rampantly imported and sold in the market. Study report disclosed toxic metals in toys can cause of several irreversible health problems of the children.
According to this study levels of toxic metals in 97% tested toys were significantly above the EU and US recommended ceiling of lead, cadmium, bromine and chromium. The Plastic toys are the most contaminated in "Toxic Toys" category and lead is the highest concentrated metal in different category of toys. Many international brands of toys also contain lead, cadmium and chromium. Local clay and wooden color toys found high concentration of lead and chromium.
Former Secretary of Govt. of Bangladesh & ESDO Chairperson Syed Marghub Murshed disclosed the study findings in a press briefing at the ESDO head office. Dr. Shahriar Hossain, Secretary General of ESDO, Team leader of the study and Siddika Sultana, Executive Director of ESDO were present at the briefing.  Responding to the questions Syed Marghub Murshed urged for a regulation and public awareness to protect children from "Toxic Toys".
The study was conducted with 40 different types of toys mostly available in Bangladesh and the selection was based on the country of origin, composition and color. The study unfold that the highest level of lead concentration was found as 8305.8 Parts Per Million (ppm) following cadmium 490.5 ppm, chromium 2502.2 ppm and bromine 3923 ppm. All these concentrations are of several times higher than the European Union's suggested limit. 75% of the samples were contaminated with bromine following 62.5% with lead, 27.5% with chromium and 20% with cadmium.
Study report defines that 74 % of the parents buy foreign toys for their children, 58% noticed their children tend to seek oral motor or sensory input by putting toys in their mouth, 64% don't have any idea whether the toys they buy are safe or not, 88% don't have any knowledge about the toxic metals in toys, 20% noticed health problems of their child due to using or chewing of toys, 80% said that carefulness of using toys can be the next step to get rid of health problems caused by toys, 60% sell their discarded toys to retailers and 56% of the parents realized that their discarded toys can affect the environment.

Pink people toxic toy factory in china
Study reveals that, in recent times the toy industry has seen the largest progress all over the world. For some countries it's one of the most contributing sectors of the GDP; China is playing the key role in this case. As a small populated country of the South-Asia, Bangladesh also manufactures a small proportion of clay, cotton, wooden and plastic toys. However, more than 80% toys are being imported from different countries of the world. In advance of the toy industry it's also a major concern that most of the toys our children use contain high levels of metals including lead, mercury, cadmium, bromine and chromium. These metals have very toxic effects on several organs and parts of the children's body some of which are long lasting and irreversible.
Posted by
admin
on Dec 7 2013. Filed under
News at Now
. You can follow any responses to this entry through the
RSS 2.0
. You can leave a response or trackback to this entry