History of the Polythene Campaign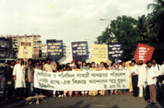 Polythene Campaign (Our Success)
Under the guidance and direction of ESDO's Secretary General, Hossain Shahriar, ESDO organised a nation-wide anti-polythene campaign in 1992, which involved the media and support by numerous organisations and public leaders. In 1999, the Ministry of Environment and Forest recognised the anti-polythene campaign as the most important national movement, while in 2000, the Ministry of Environment and Forest selected ESDO as the principle task force representative in pushing a complete ban of polythene bags. ESDO received world-wide recognition for the commitment and success of the campaign – Australia, India, Pakistan, United States of America, Japan, and European countries, have either recognised or followed ESDO's initiative. Thanks to ESDO, not only has a global campaign emerged, Bangladesh is free from toxic polythene pollutants that once contributed to a distressed environment.
Polythene Facts
Polyethylene is a non-biodegradable, organic chemical compound found in common products such as polythene bags, plastic furniture and kitchen materials.
But Did you know?
In 1993, approximately 1.4 million households in Dhaka City disposed of an average of 4.5 millions plastic bags on a daily basis.
Only 10-15% are put into dustbins, most end up in drains, sewage pipes, and open places. 80% of Dhaka's water-logging is caused by plastic bags.
Polythene bags create major environmental degradation and air pollution as they emit hydrogen cyanide, carbon dioxide, carbon monoxide and other toxic and harmful gases into the atmosphere.
Polythene disturbs the flow of nutrients in the soil and reduces the infiltration of sunlight and water. Polythene destroys beneficial bacteria in the soil, depleting its fertility, which directly affects agriculture.
Plastic bags harm wildlife, particularly aquatic and marine life
Since polythene is non-degradable, it remains intact in nature for hundreds of years.
Polythene is an agent of cancer, skin diseases, and other health problems
Ingesting polythene wrapped food is harmful for health (especially black polythene shopping bags that emit carcinogenic chemicals)
When burned, polythene releases hydrogen cyanide – an extremely hazardous gas.
Stop Using Polythene (Polyethylene) Shopping Bags
Because it is harmful for Life and Nature
History of the Polythene Campaign
Milestones:
Early 1990s: ESDO launches a comprehensive campaign against the use of polythene and plastic shopping bags.
May 1993: Approximately 500 people take part in a protest supporting the ban of polythene bag production and use.
June 1993: ESDO hosted an Open Discussion Seminar in Dhaka as a comprehensive assessment of stakeholder and decision maker opinions regarding the campaign.
October 1993: Inspired by our anti polythene campaign, 500 polythene factories were shut down in Shind Province in Pakistan by the local government.
December 1999: ESDO undertook a project, the Study on and Dissemination of Environment Friendly Alternatives: Jute, Biodegradable Polythene and Plastic Bags sponsored by the Sustainable Environment Management Program of the UNDP and Ministry of Environment and Forestry.
July/August 1995: ESDO formally lunched its anti polythene/ Plastic campaign in America & Europe with the collaboration of University of New Mexico, Albuquerque and Green peace USA, Advocacy Institute of Washington D.C., Ashoka USA, and Friends of the earth U.K.
January/ February 2000: ESDO disseminates information regarding the viability of polythene alternatives and the consequences of polythene pollution through open discussions held in Dhaka and surrounding regions.
April 2000: ESDO uses Earth Day 2000 and the Bengali New Year as platforms to voice its message on a large scale.
1998 – 2000: The Environment Friendly Bag Exhibition becomes an annual ESDO event. It is held as part of the organization's anti-polythene/plastic campaign. Manufacturers of paper, cloth, jute and cane bags from all over the country participated in the event. Winners were chosen from different categories of manufactures and given accolades.
November 2001: Bangladesh's Ministry of Environment and Forest commit to banning polythene use in Dhaka as of January 1, 2002.
December 2001: Government of West Bengal of India imposed a ban on the use and production of polythene shopping bags from January 1, 2002.
December 2001: ESDO takes the opportunity to strongly advertise and educate the public about the dangers of polythene and increase awareness about the upcoming ban.
December 2001: ESDO produces posters, leaflets, television commercials, and voice announcements, to prepare the public for the ban on polythene.
January 2002: Polythene is banned as of January 1, 2002 in Dhaka city and banning the production and use of polythene countrywide by March 1, 2002.
Polythene Free World 
Posted by
admin
on Jun 3 2013. Filed under
Audio Visual News
,
Blog
,
Citizenship
,
Environmental Justice & Governance
,
News Worldwide
,
No Plastic
,
Photo News
. You can follow any responses to this entry through the
RSS 2.0
. You can leave a response or trackback to this entry