New Diseases, Toxins Harming Marine Life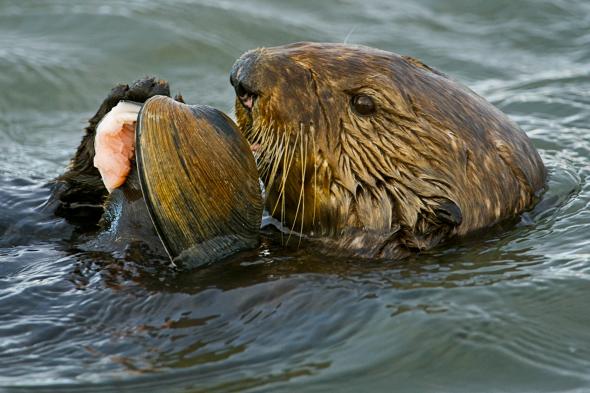 The deadsea otters arrived at Melissa Miller's Santa Cruz, California, lab with bright-yellow eyes and gums, their livers destroyed. One by one, Miller, a marine-wildlife veterinarian, eliminated the potential causes of death until "the last thing I was left with seemed so implausible that I thought I was going crazy." The otters had been poisoned by a "nasty toxin" called microcystin, which is produced by cyanobacteria, or blue-green algae. Such toxins can appear when human sewage and fertilizers run into lakes and rivers, adding nutrients that spur the growth of algae "superblooms," Miller said. But sea otters stick to the ocean, never entering the polluted lakes and rivers where these blooms occur. "I said, OK, we have to figure out how the otters are getting into this," said Miller, of the California Department of Fish and Wildlife and the University of California, Davis. Miller's sleuthing led her to California's Pinto Lake (map), a water body about 2.5 miles (4 kilometers) from the ocean and so prone to superblooms that Miller said "it'll blow your mind—it looks like fluorescent green paint." Sure enough, she found that Pinto Lake eventually drains into the Pacific Ocean—close to where the dead otters were found in 2007. Later experiments revealed the algae's toxins can live for long periods of time in shellfish—otters' main diet. Toxins from the polluted lake were traveling downstream into the ocean, Miller concluded, where they were getting into shellfish and killing otters. Of course, the toll that some types of water pollution take on marine mammals has long been documented. For example, cancer-causing chemicals called PCBs and pesticides like DDT are known to accumulate in marine mammals' fatty tissues and cause serious harm. But scientists are just now beginning to understand how these and other toxins in the water are spurring the resurgence of some diseases and the creation of others, largely by weakening animals' immune systems. And with more development and pollution in coastal areas, the problem appears to be accelerating. "Currently there is a general belief that infectious diseases stop where the land and the water meet," said Stephanie Venn-Watson, a veterinarian and director of the One Health Medicine and Research Program, which is part of the National Marine Mammal Foundation (NMMF). But recent research is showing that such diseases don't discriminate—and the ocean provides "lots of opportunities" for viruses and bacteria to blossom, Venn-Watson said. Even more worrisome, experts say, is that these organisms could eventually make their way back to land—and to us. Because people eat shellfish harvested where the land meets the sea, the sea otters may be serving as an "early warning system" for human health risks, Miller said.
Diseased Dolphins
Along Florida's Indian River Lagoon (map) one day last spring, the water looked smooth and clean, the mangroves lush. But Gregory Bossart knows otherwise. Since 2003, the Georgia Aquarium's chief veterinarian has been monitoring the health of more than 280 bottlenose dolphins that live along this 170-mile (275-kilometer) stretch of eastern Florida near Fort Pierce, about halfway between Orlando and Fort Lauderdale. A large team helps him collect a suite of samples from the dolphins, which are catalogued by their dorsal fins.
Read More: http://news.nationalgeographic.com/news/2012/04/130412-diseases-health-animals-science-environment-oceans/
Posted by
admin
on Sep 3 2016. Filed under
News at Now
. You can follow any responses to this entry through the
RSS 2.0
. You can leave a response or trackback to this entry