Press Briefing On 'The Rise in Asbestos–Cancer Concerns with Johnson & Johnson Talc–Based Baby Powder'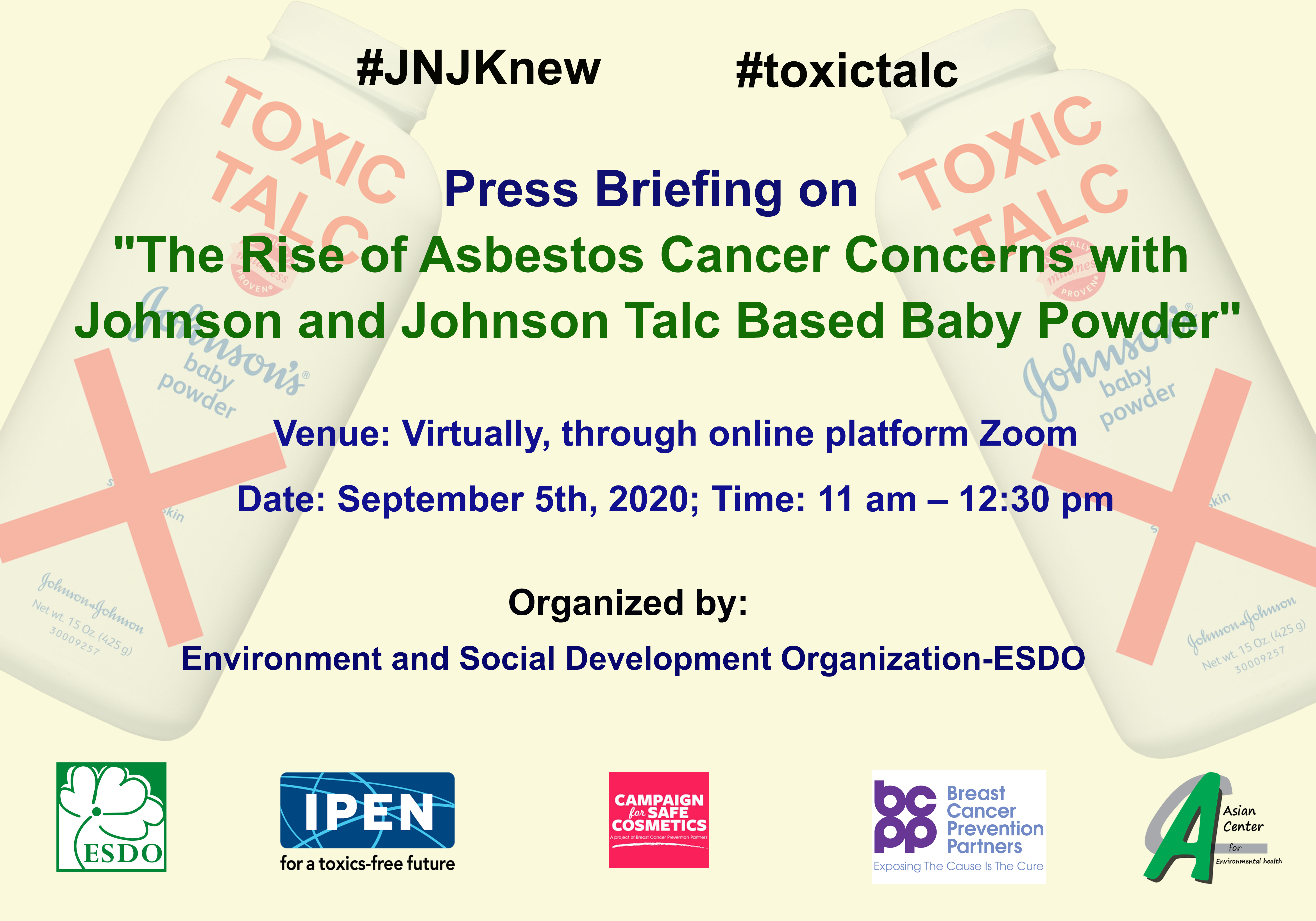 Dhaka, 5th September, 2020: To express the solidarity with the global campaign of 'J & J Global Week of Action' ESDO organized a virtual media briefing to talk about the chemical contents of Johnson and Johnson talc-based baby powder in Bangladesh and to sensitize the government to take initiatives to facilitate laboratory-based test for alleged cancer-causing asbestos in J & J talcum baby powder on 5th September 2020 from 11 am to 12:30 pm through virtual online platform Zoom. Despite the ban on Johnson and Johnson Talc-Based Baby Powder in developed countries like the USA and Canada, those banned products are still imported and sold in developing countries like India, Bangladesh, Sri Lanka, etc.
The briefing was participated by technical advisors, Prof. Dr. Abul Hashem, Former Chairman, Bangladesh Standards and Testing Institution – BSTI; Ms. Jahora Shikder, Deputy Director, BSTI; Prof. Dr. Nur Nabi, Chairman, Chemical Division, BSTI; Dr. Md. Shafiur Rahman; MBBS; MPH, Assistant Professor, Department of Occupational and Environmental Health, NIPSOM; Dr. Shahriar Hossain, Secretary-General, ESDO; Ms. Siddika Sultana, Executive Director, ESDO along with other ESDO team members and media personnel.
Johnson and Johnson Baby Powder are already banned in the USA and Canada because of the presence of an asbestos mineral in the baby powder that has the potential ability to cause cancer. However, Bangladesh is yet to address this issue properly as they don't have enough laboratory support to test and analyze these talc-based products.
According to Prof. Dr. Abul Hashem, "Bangladesh is ratified under the Basel Convention which suggests that it should prohibit the import of asbestos-containing products into the country but under 'Import Policy Order', the chemical banned list does not include 'Asbestos or it containing products'. This matter should come in the focus of our Government."
Ms. Jahora Shikder thinks, "BSTI should properly address the situation and take action to test Johnson and Johnson talc-based skin products and also to take a local talc-based powder to see all are maintaining proper standards. Asbestos should be included in the ANNEXURE-3 of Import Policy Order to stop illegal import or use in any imported products."
Executive Director of ESDO, Siddika Sultana said, "World right now is undergoing a pandemic situation which has put a halt to almost everything. But ESDO will continue its effort to push the government for analyzing those talcum powders to know if they really harmful for human health and Environment"
.
Posted by
admin
on Sep 5 2020. Filed under
Health
,
Kids Page
,
News at Now
,
News From Roots
,
No Toxic
. You can follow any responses to this entry through the
RSS 2.0
. You can leave a response or trackback to this entry