Reduction in snow pack: Insufficient water supplies in Large areas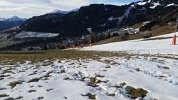 Gradual melting of winter snow helps feed water to farms, cities and ecosystems across much of the world, but this resource may soon be critically imperiled. In a new study, scientists have identified snow-dependent drainage basins across the northern hemisphere currently serving 2 billion people that run the risk of declining supplies in the coming century. The basins take in large parts of the American West, southern Europe, the Mideast and central Asia. They range from productive U.S. farm land to war-torn regions already in the grip of long-term water shortages.
Snow is an important seasonal water source mainly around large mountain chains. From higher elevations, snowmelt runs gradually into the lowlands during spring and summer growing seasons, when human demand peaks. But global warming is upsetting this convenient balance. Studies show that in many areas, more winter precipitation is falling as rain, not snow, and washing away directly; the snow that does fall is settling at progressively higher elevations, and melting earlier. The new study estimates snow's potential to supply present human needs in both current and projected climates, taking both weather trends and population into account.
"Snow is important because it forms its own reservoir. But the consequences of reduced snowpack are not the same for all places—it is also a function of where and when people demand water," said lead author Justin Mankin, a postdoctoral fellow atColumbia University's Earth Institute based jointly at the institute'sLamont-Doherty Earth Observatory and its affiliated NASA Goddard Institute for Space Studies. "Water managers in a lot of places may need to prepare for a world where the snow reservoir no longer exists." The study appears this week in the journal Environmental Research Letters. 
As the world warms, scientists have been observing declining snow accumulations in many regions, a trend that is expected to continue. Once-permanent snowfields are disappearing in the Rocky Mountains from Colorado to northern Montana, as well as in the Himalayas and other areas. A recent study showed that this year the snowpack in California, which is suffering an ongoing drought as well as long-term warming, reached its lowest point in 500 years.
Source
http://www.enn.com/climate/article/49153
Posted by
admin
on Nov 14 2015. Filed under
Climate change
. You can follow any responses to this entry through the
RSS 2.0
. You can leave a response or trackback to this entry