Reserve forest being razed in Rangamati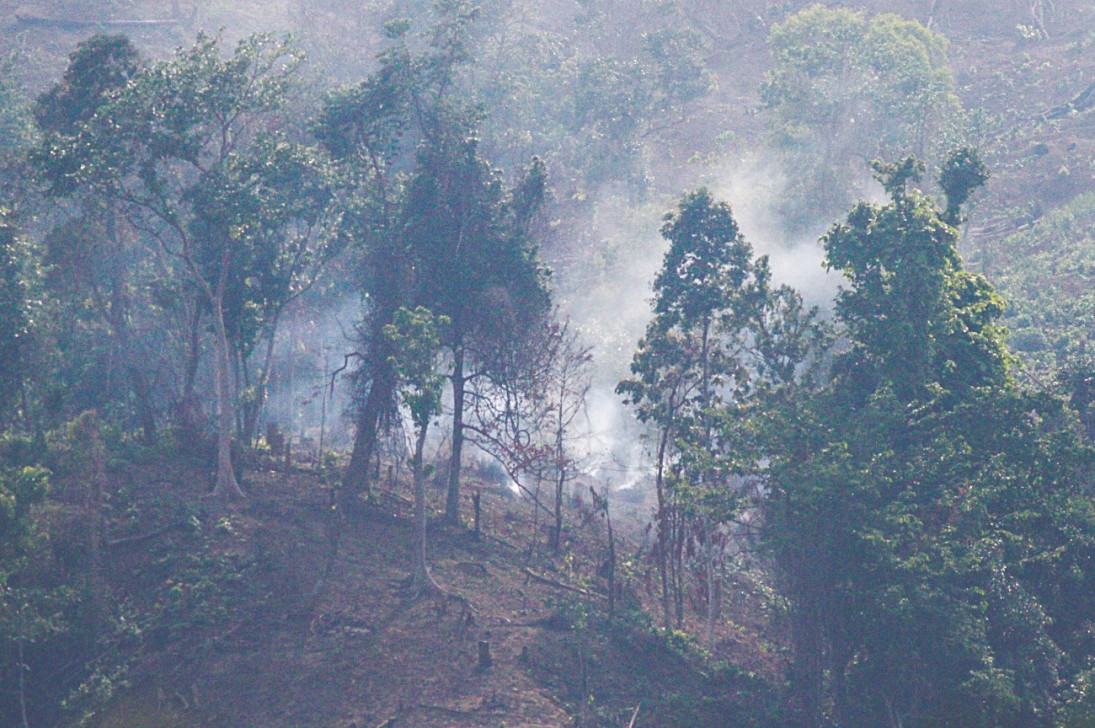 Dhaka, 9 July, 2020: Trees and plants on many acres in one of the country's oldest reserve forests, Sita Pahar, have been razed in Rangamati but the authorities have virtually done nothing to stop it.
The razing has been going on for one and a half years at the forest range adjacent to the Karnaphuli river and Kaptai National Park.
Visiting the spot on May 15, this correspondent saw from the Kaptai-Chattogram road that parts of the forest were flattened to make way for paddy and banana cultivation. The natural beauty of Kaptai near the Karnaphuli river was enhanced by the forest.
The 1,000 acre Sita Pahar is rich in wildlife and biodiversity, hosting the fast decreasing Asian elephant, Hornbill, Jungle Cat and Asiatic wild dog or Red dog, according to the forest department. It was declared a reserve forest in Calcutta gazette in 1883.
This forest is home to 20 types of aves, including the Alcedines bird, owl, common hill myna and parrot, and 12 species of snakes including Indian cobra, monocellate cobra and Russel's viper. The forest also comprises at least 25 species of trees and shrubs.
Abul Hashem, beat officer of Sita Pahar area, claimed that about five acres of the forest land were affected.
However, it was evident from the leftover tree stumps that forest on hundreds of acres of land was burnt.
Around 20 youths were seen having their lunch inside the forest with sharp tools by their side. Asked who assigned them to cut trees or set those on fire, they kept mum.
Later, they were seen preparing forest land for banana cultivation.
SM Mahabu-Ul-Alam, range officer of Kaptai, admitted that such a practice has been going on for long.
"This is a vast forest, sprawling over 1,000 acres. To stop such practices, we need more manpower. We filed two cases already and are in contact with the authorities concerned to find ways to stop setting the forest on fire," he told The Daily Star.
Md Toufikul Islam, divisional officer of forest (south) of Rangamati, told this newspaper that there was no scope for cultivation in the country's oldest reserve forest.
"There was a fire inside the forest around March-April. Upon getting information, we rushed to the spot and doused the fire with the help of the Fire Brigade and Bangladesh Army."
"We are monitoring the situation round the clock as the reserve forest is of great importance to us. We started the Assisted Natural Regeneration programme to revive part of the forest that was burnt down," he added.
He said they held meetings with leaders of the locals, commander of the army camp, BGB and police, in efforts to stop the practice.
Kamal Hossen, professor of Institute of Environment and Forest Science, said burning down a forest has a huge impact on the biodiversity of its flora and fauna.
The aves and animals lose their habitats, some even die in the fire. Moreover, it causes top soil erosion during monsoons. This fills up the streams in low lying areas, which leads to flooding, he added.
Quoting a study of Soil Research Institute of Bangladesh (SRBI), he said seven to 120 tonnes of soil erode in per hectare of forest due to cultivation, which contributes to filling up of water bodies flowing down the forest.
.
Posted by
admin
on Jul 9 2020. Filed under
Climate change
,
Forest & Land
,
News at Now
. You can follow any responses to this entry through the
RSS 2.0
. You can leave a response or trackback to this entry