Rutgers develops "Super Catnip"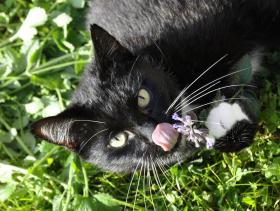 A bigger more hearty catnip plant – whose enriched oil not only promises to drive cats crazy with pleasure but also may be a safer, more effective mosquito repellent – has been developed for specialized commercial farmers by Rutgers University.
A super catnip has been developed by Rutgers that will allow commercial farmers to grow bigger yields at more affordable prices.
The Rutgers New Jersey Agricultural Experiment Station (NJAES), which has spent more than a decade developing the new breed, CR9, for the insect repellant and pet toy industries recently licensed the product to Ball Horticulture, an Illinois company that will produce the seeds for commercial farmers.
"In the past catnip wasn't grown much because the plant itself was never developed to generate commercially acceptable yields from its leaves and flowers which produce its aromatic volatiles oils, and thus, wasn't profitable" said James Simon, professor in the Department of Plant Biology and Pathology at the Rutgers School of Environment and Biological Sciences who led the plant breeding in the development of the new catnip variety. "We developed a super catnip that can survive northern winters and produce copious amounts of aromatic oil  with a special  composition that is rich in the bioactive compound that repels the mosquitos away and drives cats wild."
Catnip is a short-lived perennial herb and a member of the mint family. The aromatic oil consists of many compounds but it is the nepetalactone, the chemical in catnip that triggers the flipping out response experienced by some cats that react by rolling around and becoming hyperactive. Cat owners give catnip to their pets as a treat to play and have fun.
The problem, however, is that  this bioactive compound found in the essential oil of the catnip breaks down fast and the product then appears old or stale, Simon said. This means catnip toy products lose their potency quickly. The new CR9 variety has bigger leaves and flowers that can be dried, processed or distilled producing three times as much enriched oil which results in a longer shelf life. Its size makes the CR9 catnip ideal for harvesting mechanically — allowing it to be collected twice a year instead of just once annually.
Source:
Environmental News Network. September 20,2015. http://www.enn.com/top_stories/article/48990
Posted by
admin
on Sep 22 2015. Filed under
News Worldwide
. You can follow any responses to this entry through the
RSS 2.0
. You can leave a response or trackback to this entry