What Lies Beneath Mount St. Helens?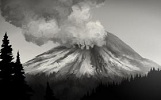 Geoscientists have for the first time revealed the magma plumbing beneath Mount St. Helens, the most active volcano in the Pacific Northwest. The emerging picture includes a giant magma chamber, between 5 and 12 kilometers below the surface, and a second, even larger one, between 12 and 40 kilometers below the surface. The two chambers appear to be connected in a way that could help explain the sequence of events in the 1980 eruption that blew the lid off Mount St. Helens.
So far the researchers only have a two-dimensional picture of the deep chamber. But if they find it extends to the north or south, that would imply that the regional volcanic hazard is more distributed rather than discrete, says Alan Levander, a geophysicist at Rice University in Houston, Texas, and a leader of the experiment that is doing the subterranean imaging. "It isn't a stretch to say that there's something down there feeding everything," he adds.
Levander unveiled the results on 3 November at a meeting of the Geological Society of America in Baltimore, Maryland—the first detailed images from the largest-ever campaign to understand the guts of a volcano with geophysical methods. The campaign, "imaging magma under St. Helens" (iMUSH), started in 2014 when researchers stuck 2500 seismometers in the ground on trails and logging roads around the volcano. They then detonated 23 explosive shots, each with the force of a small earthquake. "You'd feel this enormous roll in the ground, and everyone would go, 'Oh wow'," Levander says.
The shots sent waves of energy into the crust, and the seismometers picked up reflections. Based on the expected travel times of the energy waves—they travel more slowly through magma chambers than through dense rock—the researchers could piece together a tomographic image of the crust between depths of 5 and 40 kilometers. To map the upper 5 kilometers of crust, they placed 920 seismometers near the volcano summit and monitored them not only for reflections from the explosions, but also the small earthquakes that occur frequently near Mount St. Helens and even the high-frequency noise produced constantly by Earth itself. Finally, they placed a set of 75 long-lasting seismometers around the volcano, where they will remain until 2016 to listen for earthquakes that rumble all the way through the Earth—so-called "teleseismic earthquakes"—that can help produce images down to 80 kilometers.
Source
Environmental News Network. http://www.enn.com/ecosystems/article/49143
Posted by
admin
on Nov 12 2015. Filed under
News Worldwide
. You can follow any responses to this entry through the
RSS 2.0
. You can leave a response or trackback to this entry