Wildlife trafficking sees sharp rise in Bangladesh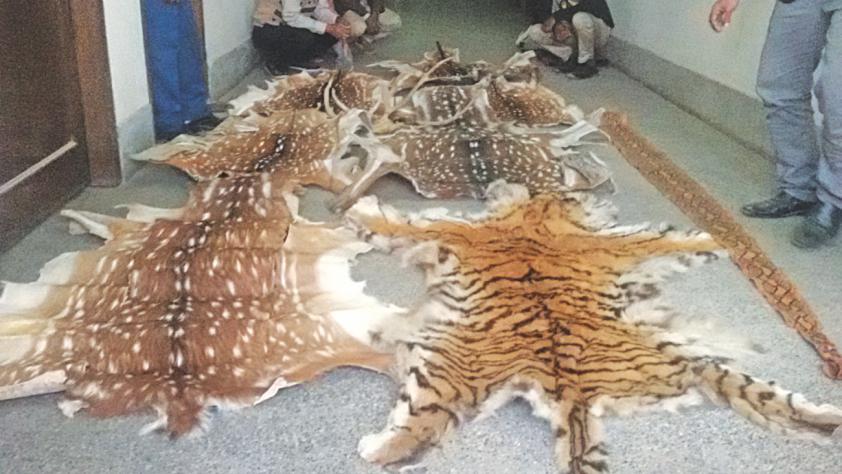 growing number of seizure of wild animals and birds over the last five years shows that poachers and smugglers are using Bangladesh as a route for wildlife trafficking. The Department of Forest (DoF) and law enforcement agencies recovered 21,506 live wild birds and animals, including tiger and bear cubs, during the period. A variety of animal body parts — from tiger skins and bones to tusks of African elephants — are also on the seizure list.
"Bangladesh is indeed being used as a route for wildlife trafficking," Madinul Ahsan, assistant conservator of forest at Wildlife Crime Control Unit (WCCU), told The Daily Star yesterday. According to wildlife officials, traffickers are active in smuggling out tiger skins and bones through Bangladesh, as those have huge demands on the global market, especially in China.
Some of the seized wild animals and birds were meant for local trade, while the others were for trafficking to different countries, mainly in Southeast Asia. Wildlife traffickers are illegally bringing wild birds and animals mainly from India to smuggle those out via Shahjalal International Airport in the capital, the officials said. Smugglers prefer Shahjalal airport because of lax monitoring, and the fact that they can bribe a section of corrupt officials to allow them to run the illegal trade, they added.
Contacted, Tapan Kumar Dey, conservator of forest (wildlife), said, "Our officials are trying their best. But we need more support, and need to train our law enforcers and airport officials if we want to stop it." About wildlife trafficking via Shahjalal airport, he said, "If tiger skins are smuggled in luggage, it is difficult for scanners to detect those."
He said wildlife trafficking poses serious threats to the survival of rare and endangered animals such as Bengal tigers in the Sundarbans. In the last five years, the DoF and law enforcers recovered three tiger cubs, 12 tiger skins, and teeth and bones. "Seizure of tiger bones is new in Bangladesh. We are not sure how the traffickers are sending those abroad. But I think they are trafficking those in luggage," said Md Abu Naser Mohsin, assistant conservator of forest.
He said tiger bones are not used in Bangladesh. "We believe China is the destination of tiger bones since Chinese people use those to make medicine."Almost two-thirds of the 21,506 wild birds and animals seized since 2010 are turtles and tortoises. During the period, law enforcers seized 12 illegal consignments of turtles at the airport and 20 more at different points of Bangladesh-India border. A large number of the turtles and tortoises, mostly brought from India illegally, were recovered at Shahjalal airport while those were being smuggled to Southeast Asian countries, said forest officials.
Asked why smugglers chose Southeast Asian countries as destinations, Tapan said they would try to smuggle goods to places where prices are high.
Source
The Daily Star. 6 Oct, 2015. http://www.thedailystar.net/frontpage/wildlife-trafficking-sees-sharp-rise-152602
Posted by
admin
on Oct 6 2015. Filed under
Bangladesh Exclusive
. You can follow any responses to this entry through the
RSS 2.0
. You can leave a response or trackback to this entry